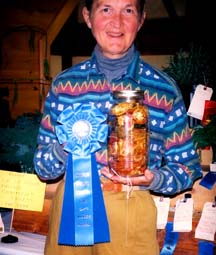 Me and my prize-winning
Tomato Sampler..
one half gallon of
low-temp, dried
heirlooms!
JUDGES' AWARD:
Tomato Sampler- dehydrated heirloom varieties

FIRST PLACE AWARDS:
Red Russian Kale
Winterbor Kale
Red Bor Kale
Champion Collards
Peach Tomatoes
Veggie-Nola (vegetable granola)- loaded with dried vegetables from our garden in a base of Maine oat groats.
Royal Feast (fruit-granola)- Maine apples, pears, peaches, pureed plums plus Maine oat groats and variety of nuts, spices

SECOND PLACE:
Raw Pizza (dehydrated)- potpourri of tender, succulent, young zucchini, zephyr, and summer squash, carrots, scallions, garlic, kale, pureed tomatoes, seasoning, and sprouted buckwheat.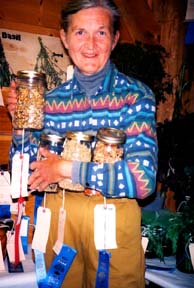 Here I am with a few
of my dehydrated
prize-winners