The Harvest 2010

Our Concord Grapes- succulent, aromatic, and
abundant this year! The right amount of summer rains
and sunshine produced a record harvest for us this year!
I picked over 107 lbs! We celebrated the bountiful harvest
by making grape juice, grape/banana smoothies, and grape fruit leathers!
I also shared the wealth by wholesaling around 24lbs. Not many grapes
were lost to the ground, birds, bees, or hornets!
The Concord Grape fruit leather that I entered in the
Common Ground Fair won a Judge's Award!
Learn more about my Fair entries here.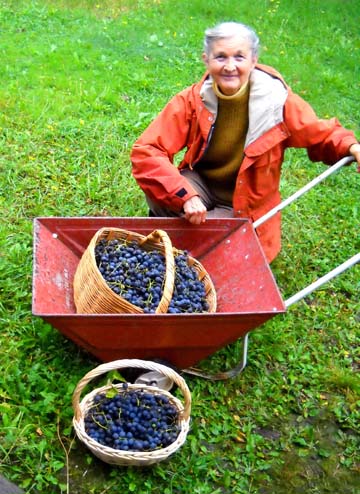 Here I am with one of my loads of freshly harvested grapes.
Since the vines now grow over our fence onto the
school's football field side, I have to wait for the field
gates to open so that I can walk over and pick our purple
jewels. Seen above is about 25lbs. worth.
Mmmmmmmmmmm....good!