Late Harvest
Saying 'good-bye' to our 2010 garden
The Red Bull Report
Every year I have planted Detroit Red Beets as our
main crop of beets, but this year (since our seeds
were old and not good germinators), I decided to
grow Red Bull and Forono Cylindrical beets.
The results were delightful!
According to the Fedco Seed Catalog, Red Bull Beets
are favored for their showy, lustrous, red leaves
that last well into the fall. Right they are!
I carefully watched the Red Bulls and gasped one day
when I saw the leaves all lit up in glorious shades of
red in the late summer sun. It was breath-taking!
From then on, I decided to keep the Red Bulls
in the ground as long as possible! When
temperatures began to fall, I placed them
under row covers.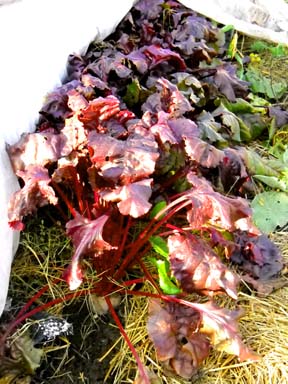 Here are our Red Bull Beets in mid-November
as they appeared after I pulled off the protective
row cover. They were a splendid surprise!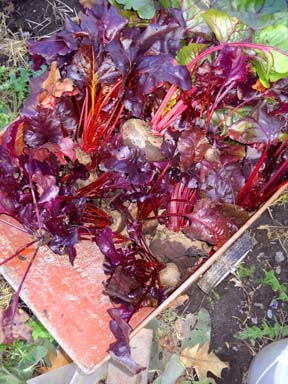 Here are some of the Bulls sitting happily
in my garden cart. Many of the beets were very large.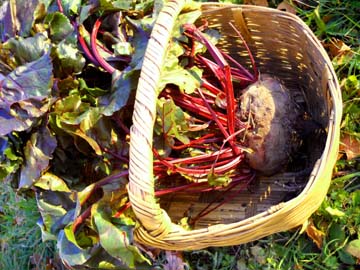 Here is one of the first Red Bulls that I harvested.
I call it a 'community' beet, since it is actually
several plants that have grown together.
This is what happens when one does not
thin the beets when they're young!
The beet weighed 3.75lbs!