EXCALIBUR 2900 DEHYDRATOR-
Dehydration is the most nutritious way of preserving food. with proper temperature and air flow, fruits, vegetables, and herbs can be dried so that enzymes and other nutrients are kept intact. this family-size economy model features an adjustable termostat with a temperature range of 85-145 degrees. With dimensions of 12.5" high, 17" wide, and 19" deep, this unit has 9 trays and a total of 15 sq. ft. of drying area. One year warranty including parts and labor.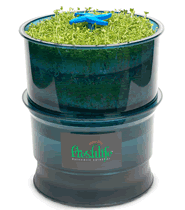 FRESH LIFE SPROUTER
You can grow your own sprouts and cereal grasses, like wheatgrass, right in your own kitchen with the FreshLife Sprouter. Made for indoor use only, in room temperatures of 65°F to 85°F, it features an automatic sprinkling system to produce fresh, nutritious and tender sprouts. The FreshLife Sprouter is inexpensive to operate, easy to clean, and lets you to enjoy nutritional natural food all year round.
Extra Barrel- Stacks on top of first barrel to make a double batch of sprouts