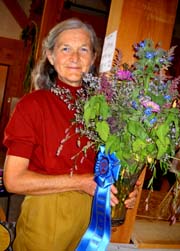 JUDGES' AWARD
Summer's End Bouquet
(Stinging nettlles, borage, lamb's quarters,
zinnas, and more!)
Judges' comment: "Gorgeous! Fantastic use of materials!"
FIRST PLACE AWARDS
Curried Summer Crisps
(Summer squash, scallions, onion, celery,
carrots, garlic, dulse, chia seed, Himalayah salt)
"Fun, flavorful; dried well. Sweet and spicey"
Corn Crackers
(corn,
"Nice job. Subtle mix of flavors."
Old German Herlooms
"WOW" Beautiful presentation!
Dried nicely. Great flavor."

Principe Borghese (tomatoes)
"Nicely presented. Great color. Maintained flavor."
SECOND PLACE AWARDS
Garden Bouquet

Beedy's Kale
"NIce, but a bit of pest damage."
Onion Crisps
(onion, dulse, chia seeds, Himalayan salt)
"Strong onion flavor. Well dried."
Cucumber Crisps
(lemon cucumber, celery, parsley, basil, Thai basil,
fennel, lemon juice, sesame seeds, chia seeds, dulse,
garlic powder, Himalayan salt)
"Slightly bitter. Good drying job."
HONORABLE MENTION
Backyard Bouquet
"Nice selection, but some specimens past prime/faded."
See photos of award-winning dehydrated foods here