A Ministry of Health in Winslow,
Maine in association with
Hallelujah Acres, Gastonia,
North Carolina


You shall know the truth
and the truth shall set
you free:
YOU DON'T HAVE TO BE SICK!

HANDS-ON HEALTH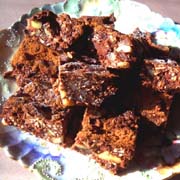 SWEET TREETS
Cancelled
Details posted here
LIVING Letter
Archives
here

LIVING Letter
An e-newsletter of The Living Way
Teaching you how to be healthy the natural way

Issue #91- 11/5/17


'Got Energy?'
Many Americans do not have enough energy
to make it through the day. While some
opt to become 'couch potatoes' and let life
pass them by, others are discovering how to
re-power their lives the natural way!

Read more...

LIVING Garden
Useful information for the home gardener here
LIVING Resources
Helpful resources for healthy living here

LIVING Buying Tips
Connect with healthy, convenient, and
cost-effective shopping here

LIVING Recipes
Chocolate-Mint Freezer Fudge
A little healthy indulgence!
LIVING Inspiration
Mandy Harvey
Hear it to believe it!