MINISTRY:
Welcome
News
Meetings
Radio- TV
Co-Op
Contact
LIVING Letter
E-newsletter
Archives

ALERTS

FEATURES:
Articles
Editorials
Quotes
Food for Thought
Statistics
Book Reviews
Testimonies
Recipes
Living Garden
Living Photos
SAD Photos
Vaccination Info
and Waiver
Links
Preparedness
EQUIPMENT:
Kitchen
Exercise
Berkefeld Water Purification Systems



LIVING WAY RESOURCES
Educational Materials
Books, tapes, and more
BioPro Technology
EMF protection
Life Enthusiast Co-Op
Magnesium Oil, Prill Beads,
Twilight America products!
HEALTHY NEWS
SOURCES
Health Freedom USA
The Power Hour
Organic ConsumersPatriot Internet
Natural News
Cornucopia
Farm Wars
HEALTHY HELPS


Fire Burn Doctor
American Made Products Directory
Live Heat Map
Sea Levels On-line
10 Tips to Start a Raw Food Diet/

HEALTHY MOVIES on-line
Farmageddon
Back to Eden,
Take Back Your Power

VIDEOS:
Dr. Brownstein on the Importance of iodine

Wheatgrass Trucker Instructional


_______________________
Our monthly HANDS-ON HEALTH meetings are
taped for later broadcast on Channel 7, Public Access TV.
DVDs are available for a modest fee. For details
contact Laura at 207-453-9895 or
laura@centralmainecatv.com
The information on this website is for educational purposes only.
We do not diagnose nor prescribe.
We are not responsible for any
consequences that may result
from change of diet.


LIVING Letter
An e-newsletter of THE LIVING WAY
Issue #64: "NUTRITION: The Ultimate Healthcare"
10- 8-13

__________________________________________
CONTENTS:
1. Scheduled meetings and events
2. Ministry update from Mary Louise;Town Jaqua,
Hallelujah Acres Health Minister
3 Feature article: "NUTRITION: The Ultimate Healthcare"
4. LIVING Resources
5. LIVING Buying Tips and more
6. LIVING recipe: Cream of Carrot Soup
_________________________________________

1. Schedule of upcoming meetings and events:

HANDS-ON HEALTH


''Overcoming the Food Imprint"
A video presentation by Valya Boutenko
Thursday, October 10, 2013
5:30-7:30PM
FMI click here

____________________________________

2. Ministry update

Dear Friends,

As fall descends upon Maine, we wonder
where the summer went! Cool, crisp mornings
and autumn skies remind us that winter is on
the way. Thus we scurry in preparation for the
cold season by bringing in firewood, planting
garlic, and putting the garden to bed. Suffice
to say, we are busy living at The Living
Way!

After our recent summer sabbatical, our
HANDS-ON HEALTH meetings resumed last
month only to be greeted by an equipment
failure that aborted our scheduled presen-
tation. Undaunted, we engaged in a lively
discussion about the nature of eating habits
and how to resolve associated impasses.
The free flow of comments, questions, and
testimonies, made the meeting one of our
best. Nevertheless, now that our technical
difficulties have been resolved, we will
rerun Valya Boutenko's film, 'Overcoming
the Food Imprint,' at our HANDS-ON
HEALTH meeting this week. Plan to join
us for this inspiring viewing. Details about
the meeting are posted here.

With all the current buzz about healthcare,
this month's featured article, 'NUTRITION:
The Ultimate Healthcare' presents simple truths
worth pondering. A life free of sickness, pain,
disease, and doctors, is possible! Instead
of 'managing' health problems, learn how
to resolve them without medical modalities!
Read up for the sake of your better health!

Our news section this month is overloaded
with links to important articles and videos.
While this 'glut' of information is perhaps overwhelming, we encourage investigation
of issues that pique personal interest.
Knowledge is power, so arm yourself for
the battle of life by doing some 'healthy
homework!'

Absent this month are updates to some
of our regular pages. The hardest hit is
our 2013 Garden Log. We are sorry to
disappoint in this department but time did
not permit this monthly dialog from the
backyard gardener. A few new postings,
however, are found at the Radiation News
and News Links pages.

By way of summary, those of us at The
Living Way enjoyed our sabbatical this
summer, though admittedly it was more
ambitious than not. There was gardening
to tend, house projects to oversee, and
office work to accomplish. Thankfully
our garden was productive again this year
and continues to yield delicious, organics
daily: kale, collards, arugula, assorted herbs,
tomatoes, peppers, assundry wild edibles,
plus luscious Concord grapes! These 'purple
gems' are always the highlight of the season.
Suffice to say, we are indulging ourselves
to the fullest!

While our enthusiasm for the health message
continues to run high, we know that major
changes in America and around the world lie
ahead. What these changes will mean for
us we do not presently know. However, we
do know that come what may, we will do
our best to be here for you. Please note
that with ministry commitments increasing,
our web presence will be abbreviated as
will future editions of this e-letter. Look for
changes as early as next month.

For now, we continue to hold forth the health
message in these decidedly unhealthy times.
May our efforts light your path in the hour of
your need.

In all your ways acknowledge him, And he will direct your paths. Proverbs 3:6

Your word is a lamp unto my feet, And light unto my path.- Psalms 119:105



________________________________________

3) Feature Article: ''NUTRITION:
The Ultimate Healthcare"

There is a healthcare crisis in America but
not as is commonly understood. While the
average American struggles, politicians
wrangle, and corporations finagle over how
best to address issues of health, the problem remains undefined and the solution elusive.
Call it convenient ignorance, oversight, or
corporate stupity, the answer to healthcare
is simple.

Read on...

_______________________

4) LIVING Resources



Where There is No Doctor
When there is no doctor or when you elect to
care for yourself, what do you do? David Werner,
who has worked in more than 50 countries
helping to facilitate health workshops and
training programs, has answers. Learn how
you can address your own medical needs.
Access a FREE audio clip plus sign up for
a FREE copy of Werner's book here.

Biblical Nutrition 101
Achieving ultimate health starts with education!
Dr. George Malkmus has taken the guess work
out of wellness with this handy, scripturally-based study guide. Learn what you need to know about
the origin and principles of proper diet and
lifestyle and how to apply them. Great for all ages. Available as a FREE Download here.

Nutrition Facts Comparison Tool- find and
compare nutrient content of living foods
______________

____________

5) LIVING Buying tips and order info

Hallelujah Acres Sales and Deals!
Check out on-going sales of Hallelujah Acres' products: from signature supplements to
custom clothing. Save and stock up while
supplies last! For details, click here

_______________________________________

6) LIVING Recipe: Cream of Carrot Soup

It's time for root vegetables, so celebrate
the season with this easy, tasty, raw soup.
Smooth to the palate and mellow to the
taste, this living creation could become
a favorite!

2-3 large carrots
1 stalk celery
handful parsley
few slices onion
2 T Nutiva Coconut Manna (softened)
(Coconut Butter or oil can be substituted)
few stems fresh rosemary (or herb of choice)
1.5 cups filtered water, approx.

Chop carrots, celery, onion, rosemary and
blend with water, adding coconut manna
gradually. Blend until creamy smooth.

Organic ingredients always recommended.

View more LIVING Recipes here

__________________________________________

This LIVING Letter comes to you in Messiah's
love to encourage you toward achieving superior
health. Healing of the whole man is the promise
of our Heavenly Father. Begin now to receive
your new life...naturally and spiritually. YHVH is
able to do great and wondrous works, if we will
but trust and obey Him. YHVH bless you!


For your excellent health and His glory,
Mary

T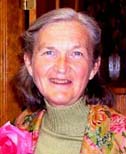 Watch
THE LIVING WAY
on Channel 7 TV
click here for info!
Our monthly
HANDS-ON HEALTH
meetings are
taped for later broadcast
on Channel 7, Public
Access TV.
DVDs are available
for a modest fee.
For details
contact Laura at 207-453-9895 or
laura@centralmainecatv.com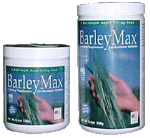 HALLELUJAH
HELP:
Starting on the
Hallelujah Diet

The Hallelujah Diet

Hallelujah Acres
Products
ORDER DIRECT FROM
HALLELUJAH ACRES
USE PIN#407
1-800-915-WELL
YOUR PURCHASES
HELP SUPPORT
THIS MINISTRY!
Subscribe to FREE
Hallelujah Acres'
publications
HERE!
_____________
_______________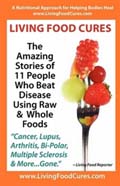 A convenient ebook
Live food works!
Read all about it!
click here

LIVING ART
GALLERY



Paintings, prints and more
by ministry artist
Mary Louise;Town Jaqua